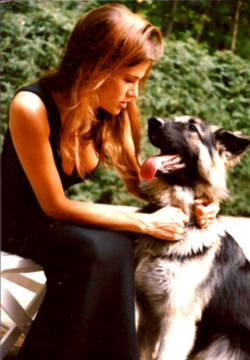 I am a psychoanalyst who balances out the seriousness of my work and maintains my mental sanity by having the most loving creatures on the planet. The luckiest part of my day is that my office is at home, and I can enjoy my Shilohs all the time.
I acquired my first Shiloh in April 1997. At that time there were aproximatly 500 in the breed. I was living in Manhattan and the Shiloh was a brand new to the breed. Shenandoah's Mountain of Mayhem aka Sierra brought me so much joy and pleasure that my new boy arrived just 6 months later, Shenandoahs Arctic Blast aka Kodiak.
Having 2 Shilohs in Manhattan required a lot of walking and kept me in great shape and we made lots of friends.It was approximately every minute someone would inevitably stop me to ask questions about the breed. Within my first year of owning them there were six other Shiloh's living on my street.
Fast forward to 2008, I changed islands and now live in Nassau, Bahamas, still madly in love with the same breed. Here my dogs enjoy the beach, boating, swimming and for some of them, especially the swimming pool.
Presently, I am the proud owner of three Shiloh Shepherd females; Isis from what was formerly Shenandoah Kennels, Gypsy from Genesis Shilohs and Tosca from Sunshine Shilohs.